Welcome to Culinary Associates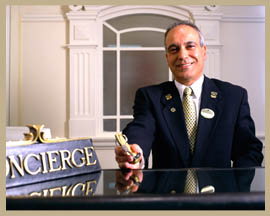 Our Services ...
Catering for every occasion
Facility Acquisition
Hotel Accomodations
Transportation (Limousine, Shuttle ...)
Entertainment (DJ, Live Band ...)
Media (Flyers, Banners, Tickets)
Decorations

Our Chefs and Credentials ...
At Culinary Associates, everyone involved in the planning and preparation of your event's cuisine, is formally trained in Culinary Arts. Read More ...
Culinary Associates "A Taste of Elegance", offers specialized catering and concierge services that delight your taste for the pure essence of soul satisfying artistic gourmets. We are dedicated to delivering a valuable dining experience to customers while turning today's cuisine into tomorrow's traditions.
Seeing is believing. Check out snapshots from recent events and see culinary masters at work. Click Here
We are dedicated to excellent customer service. Need proof? Take a look at our list of satisfied clients. Click Here
Preview Buttons
Preview Buttons